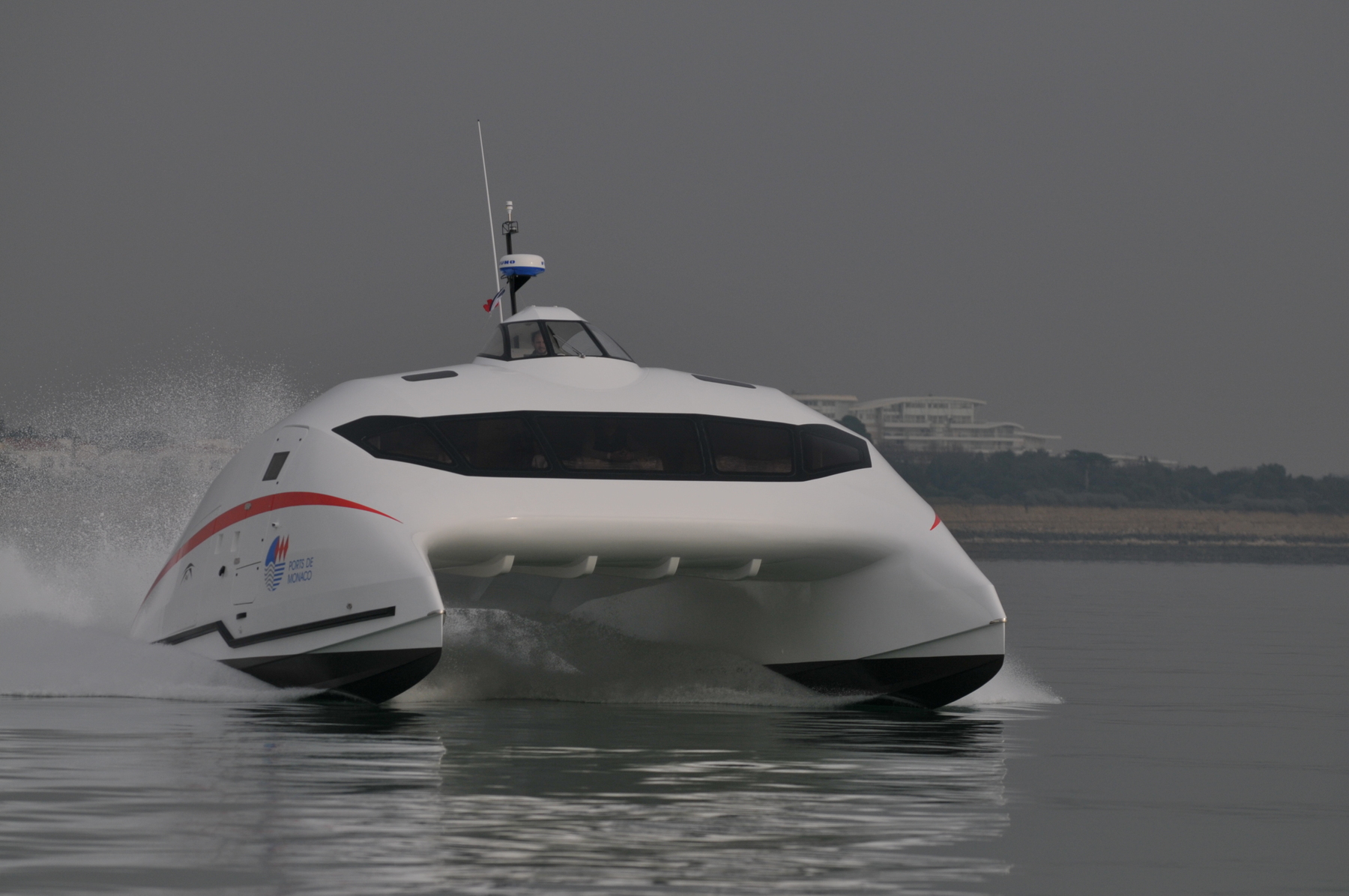 Photo: aavessels.com
A new generation of fast power boats
2021-03-04
Traduire automatiquement:
The shipyard Advanced Aerodynamic Vessels (A2V) based in La Rochelle - France has just delivered ​"Monaco One"​ to the Société Monégasque Internationale Portuaire.
This new catamaran can reach speeds of up to 50 knots fully loaded while its 12 passengers enjoy the panoramic view comfortably seated in front of the vessel. The new design boasts a reduction by half of the fuel consumption compared to conventional fast vessels.
The faster the wing-shaped vessel goes, the stronger the aerodynamic lift it generates and the lighter it becomes on the water, thus drastically reducing drag.

In addition to the A2V-Shuttle, the yard has also delivered a larger model A2V-25-CB, which takes up to 25 passengers with a cruising speed of 40 kts.

On the drawing board, the yard has several models in progress with a capacity of up to 60 passengers and speeds up to 60 kts.

Monaco One( A2V-Shuttle) Specifications
Length : 11.9m (39ft)
Width : 7.45m (23ft)
Draft : 0.6m (2ft)
Light displacement : 6200 kg
Capacity : 12 pax + 1
Certification : CE category B
Maximum speed : 50 kts
Cruising speed : 45 kts
Range at cruising speed : 250 nm
Motorisation : 2x350cv (2x260kW)
Propulsion : surface drives
Fuel consumption at speed fully loaded : 2.5l/nm (0.66gal/nm)
Air conditioning : 2x16000 BTU

There is also a yachting version A2V-Tender available for order

A2V-Tender Specifications
Length : 11.9m (39ft)
Width : 7.45m (23ft)
Light displacement : 7000 kg
Certification : CE category B
Speed : 50 kts
Range at full speed : 150 nm
Motorisation : 2x300hp (Outbords)
Main deck : 10 passengers
Cabins : 1 suite or 2 vip cabins
Air conditioning : 30 000 BTU